Well I couldn't sleep the other night for some reason so I ended up staying up. I ended up working on installing Mythbuntu with mixed results. I have TV sometimes and not others. Either way I have some more work to do on that. However I think I have a plan. Since the machine that I currently installed it on has a 1.8 MHZ processor (I think) I am going to swap it out for a machine with a beefier processor and the same RAM. Anyways on with the update.
It was great to see the sun rise and this squirrel hop along the peak of my garage. I tried to get a quick picture but to no avail. Since I was up all night and had plans for the day I head straight out. A quick trip to the home depot for some dirt for my girlfriends back yard to fill in and grade around the patio, and a plane for me to straighten out some doors that I am in the process of stripping.
When I got home and began to unpack my tools my neighbor stepped out onto her back step. Every time this happens we seem to end up talking for a while. Needless to say she mentioned that they had found and rescued a brindle puppy at the public market, part pit and part great dane. They already have I think 4 dogs and a couple of cats, so she was talking about taking her over to Lollypop farm a local animal rescue center. Of course this was second to trying to get me to adopt her. I have to say she is a beautiful puppy, and the thought definitely crossed my mind as she brought her out and I petted her as we talked. She seemed quite healthy and very sweet. However I am not sure if I can afford a dog right now, and it wouldn't be fair to the puppy.
So after chit chatting and swapping some bricks for some dirt I was off to do some more puttering. I am really good at starting and stopping projects around this house. I swear if I don't have five things going I am bored. I have been trying to clean up the yard of the random piles of dirt and stone so it was a relief to be able to get rid of some of it by taking it to the neighbors. The other little project I have been working on is to start to harvest the dill in my backyard.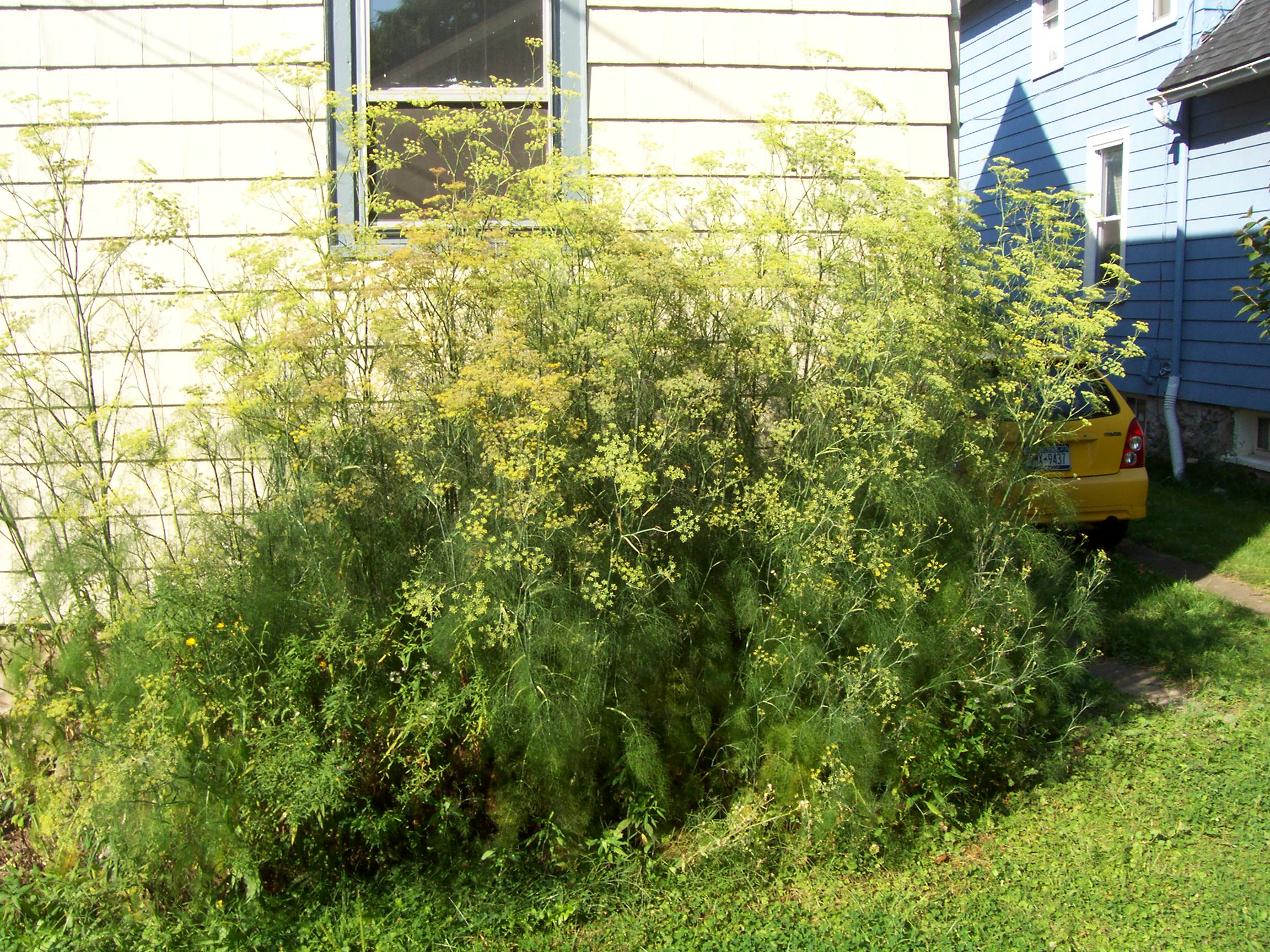 Yes I have a huge patch of dill that I thought was fenal and now I am sure its dill. So I took a few of the plants down and cut off the leafs. Needless to say I felt like a little old man as I sat on the grass doing my little bit of gardening. Now I have to find something to do with it.
Please if you have any ideas feel free to comment (if anyone ever even reads this). I am thinking right now that I am going to buy some cucumbers and make some dill pickles. Have to find out how to do that. So as the day wound down I did a few more things with the doors that I have been refinishing but more on that later.
I am sure that most of you are wondering about the Bee part of the title by now. Well the last piece of the story is that I have had a bee infestation in the front foyer of my house now for about 3 weeks. I finally have someone coming tomorrow to take care of it. As I was standing out talking to my neighbor she mentioned that I had another problem in the garage. So now I have to see if he might be able to take care of that as well.
Things around here are definitely buzzing!